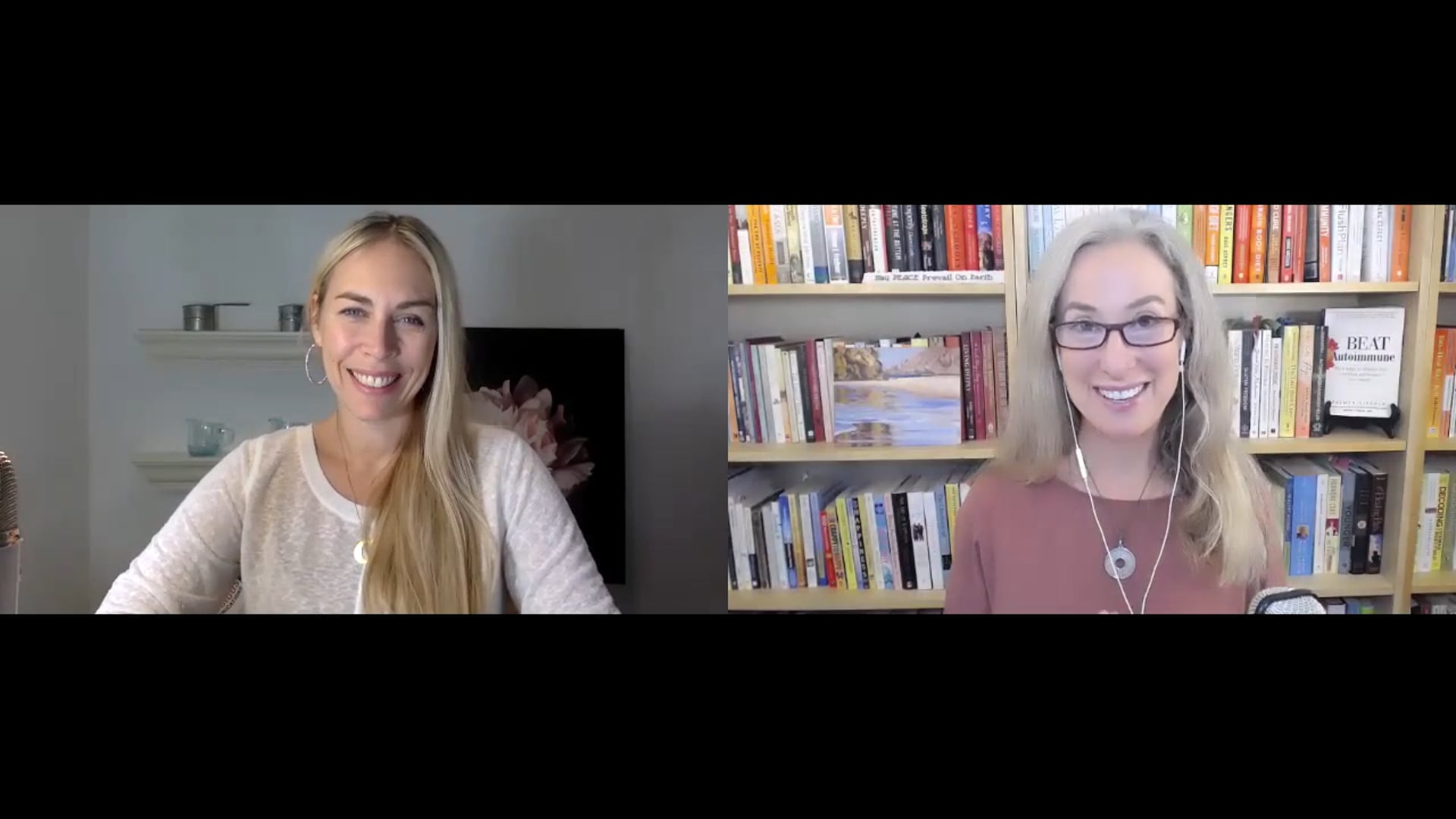 42:50
Overview:
Courtney Contos is a chef, National Board Certified Health & Wellness Coach, Functional Medicine Certified Health Coach, and passionate health educator. Like many who go on to become health coaches, Courtney has her own powerful pain to purpose story that took her from years of debilitating physical pain and shame to emerging victorious and completely free of rheumatoid arthritis (RA).
Setting the Stage
Courtney grew up in a "part glamorous, part dysfunctional" family. Her father was the acclaimed restaurateur, Bill Contos who owned the elegant French restaurant, Chez Paul, in Chicago. Growing up, alcohol flowed and Courtney experienced a roller coaster of emotional ups and downs. Emotional turmoil in childhood is a very common set up for the development of autoimmune conditions even decades later.
Courtney carried on her father's love and appreciation for good quality food. She became a chef herself and opened her own award-winning cooking school and store in Vermont. 
Persisting Despite Pain
During those years of cooking, teaching, and tending to her business, Courtney endured a lot of pain. What started as an aching, swollen knee, and then severely painful toe, morphed into chronic and debilitating pain. Despite the pain, Courtney pushed through with a brave face and hid her discomfort, shame, and embarrassment.
A rheumatologist diagnosed her with rheumatoid arthritis (RA) and pronounced the condition "incurable" and told her she would be "wheelchair bound for the rest of her life."
Unwilling to be hexed by the doctor, Courtney persisted in seeking natural solutions. She kept moving forward, even when it meant crawling to the bathroom, or needing a piggyback ride from her boyfriend (now husband) after teaching. 
Finding Her Hope Angels
Courtney's persistence, focus, and resilience led her to find Seamus Mullens, a renowned chef who himself had beat RA with food, exercise, and lifestyle changes. Once she had real hope she began to draw the right people and experiences to her. Her best friend from the third grade saw one of Courtney's Facebook posts and reached out. Her friend was now a Functional Medicine MD and told Courtney she would love to help her bring her body back in balance and reverse the RA. 
So that's what Courtney did. With the guidance of her Functional Medicine MD friend, Courtney did the work and healed. She started by getting good functional lab work done: a comprehensive stool test, a food sensitivity test, and a micronutrient panel. She discovered what she was sensitive to and what she was deficient in. By prioritizing her health and strictly staying the course, over time, Courtney completely reversed the RA. 
Her rheumatologist confirmed that her rheumatoid factor (RF) was perfect and all other inflammatory markers were normal, and that he no longer needed to see her. 
Now She's On A Mission
Today Courtney is pain free and enormously grateful. She went back to school to get certified and then nationally board-certified, as a Functional Medicine health coach. Today she is on a mission to help others transform their health by guiding people in the right direction when they find themselves stuck without wellness support.
My sole purpose is to spread the message that people do not need to suffer.
Courtney offers advice to anyone seeking healing:
Burn the label(s) [names given for doctors' diagnoses]

Find your "hope angel"

Follow the signs

Ask yourself, what do you need to change?

And, what do you believe is possible?

Most importantly: look to nature
What do you take away from Courtney's resilience? What's one thing that you know you need to change?
Take good care!
p.s. If you are struggling with RA pain or any frustrating autoimmune condition and you're ready to reclaim your life, I invite you to book a 30-minute Discovery and Strategy call with me. You will gain more clarity, greater confidence, and expert guidance on best steps forward. You can do it. I can help.