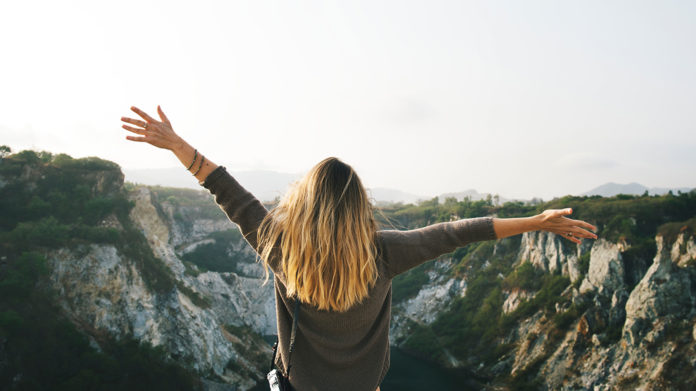 "Never, ever, ever, give up!"

– My favorite health quote, seen above the door of Dr. Lindsey Berkson's gym in Austin, TX
There's something about the end of a year that causes me to pause, reflect and take inventory. Was it a good year? What am I especially grateful for? What are my top health and wellness picks?
As I meditated this morning a wellspring of gratitude poured forth, for the people and experiences I've had over the past year. I am very mindful of how lucky I am, that I found my purpose and passion in helping people transcend autoimmune conditions and reach full vitality.
My free, private Facebook group, Transcend Autoimmune, has grown to more than 3,300 members this year. It's been a steady source of empowering information and supportive people from all over the world. The feedback I get is that, "unlike many other Facebook groups," Transcend Autoimmune is "uplifting" and "positive." One woman wrote me this morning: "Loving the folks in there so much and everybody is so helpful!"
My book, Beat Autoimmune, the 6 Keys to Reverse Your Condition and Reclaim Your Health has done better than I ever imagined. It reached #1 in 8 categories on Amazon, is now in its third printing; and now, more than 7 months since it came out, it's still #1 on Amazon in Immunology and Lupus, which means people are creating and spreading positive ripples of health.
Here's a list of my favorite health and wellness related things and experiences from 2019 and hope you enjoy them too.
My Top Health and Wellness Picks for 2019
My favorite product: a tie between the Oura ring and Muse meditation headband
The Oura ring lets me know how much deep sleep I'm getting; it measures my daily activity level; heart rate variability; and gives me a readiness score based on a number of factors. While sometimes I disagree with the recommendations, overall I feel empowered to have the data so I can make better decisions on my need for sleep and more recovery time. I meditate every morning with the Muse headband neurofeedback device. It gives me real time feedback on how calm I am with the nice sounds of chirping birds. When I'm ruminating on negative thoughts I get more crashing waves; and when I'm just breathing, repeating a mantra, or practicing gratitude and forgiveness, I get more birds. Super helpful.
My favorite podcast interview:  Zach Bush, MD on Rich Roll
I'm not sure there is a more enlightened living guy than triple-board certified doctor, Zach Bush, MD. He's incredibly humble, smart, and soulful. And he's deep into regenerative agriculture and helping us to regenerate our gut microbiomes with his research and Restore, his soil-based probiotic that is proven to help seal a leaky gut. In this episode, which takes place on retreat in Italy with Rich Roll, Zach helps us let go of our limited stories and reach for the best versions possible of ourselves.
My favorite "new" sport: pickleball
While pickleball was invented back in 1965, it's the hottest "new" sport sweeping the US, and brand new to me. Friends and neighbors introduced us to this combo racquetball-ping-pong-tennis racquet sport this summer and now I'm playing about 6 hours per week at our local town center. Unfortunately, my husband, Tom, who became quickly addicted, suffered an overuse knee injury, so I'm taking good care to strengthen my legs and stretch to prevent any knee issues. Bottom line, pickleball is fun, social and good exercise — all hugely beneficial for good health and longevity. And speaking of longevity, some of the better players are in their mid to late seventies!
My favorite quick workout: A tie between the 4 Minute Workout with Zach Bush and the Scientific 7 Minute Workout
As my days get busier with starting a business, working with clients, traveling and doing interviews… I have less time to get to the gym. The great news is that science is showing that quick, high intensity workouts like HIIT and HIIRT (high intensity interval training and high intensity interval resistance training) are not only beneficial, they may be better than long, slow cardio workouts. Both the 4 Minute and 7 Minute workouts target major muscle groups effectively and efficiently to oxygenate the body, increase lean muscle mass, and improve immune function. I try to do both at least once a day for a grand total of an 11 minute workout. Now that's doable!
My favorite supplement: a 3-way tie between Quicksilver Scientific's Liver Sauce, Liposomal Glutathione, and their Full Spectrum CBD tinctures. I'm a big fan of the quality of Quicksilver Scientific's products, recommend them to clients, and personally take them. Our livers are groaning from excess toxicants, infections, and fat, so we need to love on them more than ever. Liver Sauce is a concentrated herbal liquid detoxifying phospholipid formula, which includes R-alpha-lipoic-acid (R-ALA), milk thistle, DIM, dandelion, gentian, myrrh, quercetin, and sunflower lecithin. Quicksilver's delivery method bypasses digestion for better absorption and efficacy. Glutathione is the master antioxidant needed for so many healing processes and yet almost always depleted or missing from people with autoimmune issues. Full Spectrum CBD is not psychoactive like THC, but it offers the full healing benefits of the hemp plant. I take it occasionally to deal with twinges of knee pain (thank you pickleball!), to help me get a better night's sleep, and to help me calm down when I feel I can use a little extra help. I have an account with Quicksilver, so to get a 10% discount, you can order through me and they will drop-ship to you. I don't keep inventory, so email me at palmer@palmerkippola.com.
My favorite health and wellbeing book: Another tie, this time between The Transformation: Discovering Wholeness and Healing After Trauma by James Gordon, MD and No Time Like the Present: Finding Freedom, Love, and Joy Right Where You Are by Jack Kornfield, PhD. The Transformation is one of the best self-help books on trauma I've read, written by Harvard-educated psychiatrist and founder of The Center for Mind-Body Medicine (CBMC). Dr. Gordon has been helping people recover from trauma for more than 30 years. If you have any unresolved trauma from childhood, read and, more importantly, DO the exercises in this book. Jack Kornfield, PhD is a master Buddhist teacher and author, and in his most recent, beautifully written book, No Time Like The Present, he shares stories and simple strategies to help us find calm acceptance right here right now. It's one of the only books I finished and began reading again right away.
My favorite conference for health influencers: JJ Virgin's Mindshare Collaborative. You may know JJ Virgin as one of the pioneers in health and wellness through her NY Times bestselling book, The Virgin Diet. When I decided to step into my role as autoimmune advocate, author and speaker, a colleague urged me to attend her Mindshare Collaborative to help elevate my impact. I've attended this 3-day conference two years in a row now and can say that the connections I have made and experiences I've had with health influencers who are farther down the path than me have been stellar and worth every penny. If you are on a big health and wellness mission this may be an excellent forum for you too. I'd be happy to have a conversation with anyone who is considering applying and who has questions. I'll be attending again in October 2020 in Scottsdale, AZ and hope to see some of you there!
My favorite general health and wellness conference: PaleoFX I beat MS following a Paleo diet and Functional Medicine principles, so naturally, a conference that combines both, is a must-attend event for me. PaleoFX brings together world class health and wellness experts like David Perlmutter, MD, Joseph Mercola, DO, Terry Wahls, MD, Anna Cabeca, MD and Dave Asprey who present the latest in nutrition and health information in a lively and fun way. I had the pleasure of selling books at PaleoFX 2019 and met so many terrific people from all over the world interested in healing and optimizing their health. I'll be there in April 2020 at the Palmer Event Center (ha ha!) in Austin, TX and hope to see many of you there!
My favorite keto snacks for travel: The Pili Hunters Wild Sprouted Pili Nuts. Thanks to the vast exhibit hall at PaleoFX, which offers endless samples of delicious foods and Paleo-friendly products, I discovered pili nuts, which are similar in full-mouth creaminess but somehow better than macadamia nuts. My personal favorite is the Himalayan salt and coconut oil flavor. Addictive.
My favorite homemade healthy snack: Jill Carnahan MD's baked Brussels sprouts chips as found in my book, Beat Autoimmune. Some people crave salt, others sugar. Me? Both! So when I can find organic Brussels sprouts, I'm in heaven. I just make sure we have a supply of organic lard from bacon drippings on hand too, and when we don't, I use melted ghee. Super simple recipe: Halve and peel the Brussels sprouts into separate leaves; place on cookie sheet; drizzle with melted lard (or ghee) and sprinkle with sea salt, coat and toss. Bake for 10 -15 min at 350, watching closely so your chips don't burn. If you have my book, be sure to download the free bonuses including a colorful version of the 35 Beat Autoimmune Paleo recipes at: https://beatautoimmunebook.com/.
My favorite healing journey story: Hillery Nye Beat Lupus with the Help of Her Dogs. One of my very favorite things to do is to co-create and share healing stories. This year, my favorite healing story for inspiration and motivation is Hillery Nye's recovery from lupus. Here's a woman who overcame childhood trauma, a marriage to a narcissist, and bankruptcy, and not only got her life back, but she is healthy, happily remarried, fully present for her sons, and running 10Ks! Have a healing journey you'd like to share, please let me know and I'll send you the guidelines to make it easy breezy.
My favorite interview I gave: Scott Forsgren's Better Health Guy podcast There is no better prepared interviewer than Scott Forsgren, a health influencer who personally recovered from chronic Lyme disease, mold illness, plus a host of other confounding conditions. Today he is a leading voice of healing from complex illnesses like Lyme, mold, autism and autoimmune. He invited me on his show to discuss my MS healing journey and how we can reverse autoimmune conditions naturally. He actually read my whole book and asked thoughtful and insightful questions. If you missed it, click HERE.
Now I'd love to hear from you. Do you have your own favorites from 2019?
I hope you're wrapping up the year well and looking forward to a healthy and happy 2020. Stay tuned for my favorite keto cookies. That's coming in a few days, so stock up on organic walnuts, ghee, cardamom, and birch based xylitol.
Take good care!
p.s. I'm excited to report that we're opening up Beat Autoimmune Academy in January. If you want more support, guidance, carefully curated content, and a community of committed health seekers, get on the waitlist to access special founders' rates by clicking HERE.